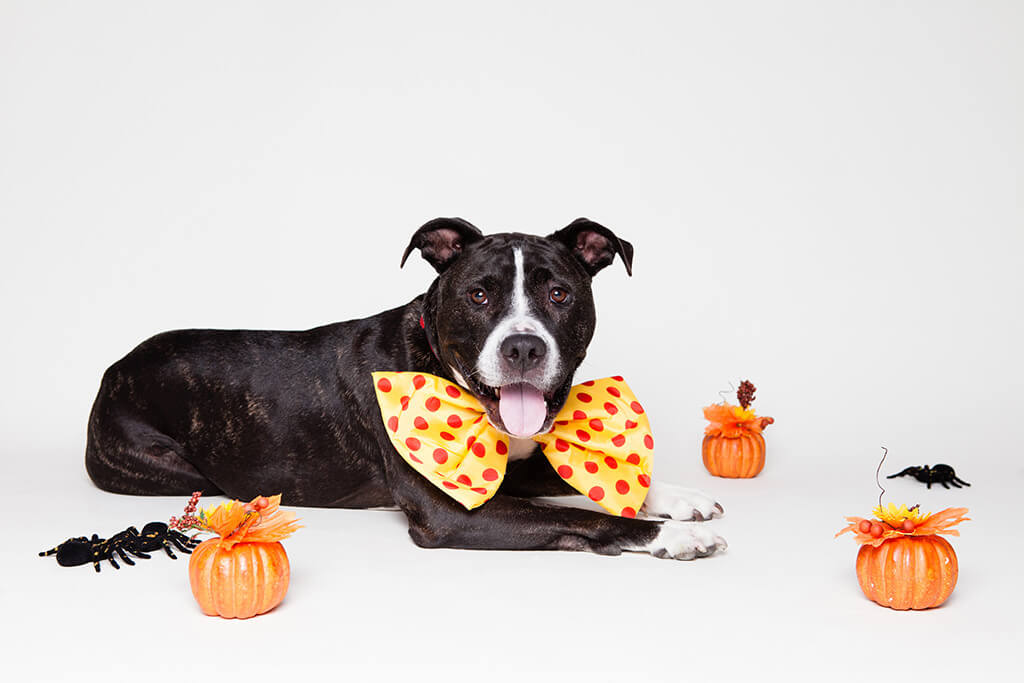 Happy Halloween from the team at Canine Campus!
Halloween can be a fun and happy time for kids and families. But for dogs, it can be an absolute nightmare. Follow these 10 Halloween tips to ensure this year's holiday is a safe and stress-free night for your canine companions as well as your family.
1. Don't feed your dog candy, especially NO chocolate.
All types of chocolate can be dangerous, even lethal, for dogs. Symptoms may include agitation, vomiting, diarrhea, rapid breathing and increased heart rate. Learn more about chocolate poisoning in dogs here. Halloween candy that includes even small amounts of xylitol can be very dangerous for dogs as well. Your best bet is to make sure to keep all candy away from your dog.
2. Don't leave your pet outside on Halloween.
Vicious pranksters have been known to steal, injure, tease and even kill pets on Halloween. Make sure your dog – and cat for that matter – is safe and sound inside with you.
3. Keep your dog away from the front door.
Halloween is a night when you will be constantly opening and closing the door. This is can be frightening and stressful for your dog, who may try to escape out the front door or display unusual acts of aggression. Put your dog away in his/her crate or away from the door to reduce stress and prevent them from getting out. No one wants to be out searching for their beloved lost dog, especially on Halloween.
4. Keep glow sticks away from your dog.
Thankfully, the substance in glow sticks is not toxic for dogs, but it will taste terrible and make an ooey, gooey mess. Dogs who get into a glow stick may drool, paw at their mouth, become agitated or even vomit. If your dog does chew open a glow stick, make sure you provide water and even a small meal to get the taste out of the mouth.
5. Keep Halloween plants such as pumpkins and corn away from your dog
Small amounts of pumpkin and corn won't hurt your dog, but if the food is uncooked or moldy it could make your dog sick. Some types of mold produce mycotoxins that can cause neurological problems in dogs and cats.
6. Don't let your dog have access to lit pumpkins.
Eliminate the risk of burns by protecting your pet from candles used in jack-o-lanterns or other Halloween decorations.
7. Keep electric and battery-powered Halloween decorations away from your dog.
While better than candles, electric and battery-powered decorations can still pose a risk to your dog. Batteries can cause chemical burns when chewed open or cause gastrointestinal distress. Shards of glass or plastic are especially dangerous if swallowed. As always, make sure your dog doesn't have access to chew on electrical cords.
8. Don't dress your dog in a costume unless you're sure they're enjoying it (or at least they don't seem to mind it.)
Don't annoy your pet with a costume, or worse yet, force them to wear something that is uncomfortable for them. Costumes should not restrict their movement, hearing, eyesight or the ability to breathe. Try on the costume ahead of time to introduce it to them slowly. Be especially vigilant about visibility. Dogs will often hang their head down when they are extremely unhappy with a costume. Pay attention to their body cues. Make costumes simple and give them lots of praise and treats for being a good sport to go along with your penchant for cuteness!
9. Make sure your dog has on proper identification.
A reflective collar with ID tags, name and your cell phone number as well as a microchip will help your fur baby be returned if they become lost. Use Halloween as a yearly reminder to check that your name, phone number and address are correct on their ID.
10. Take your evening walk with your dog early.
Reduce your dog's stress by taking them on a brisk walk before sundown on Halloween Eve, before all the trick-or-treaters come out. If you decide to take them trick-or-treating, make sure your dog is well socialized and will enjoy the time with the family.
Canine Campus is committed to providing the best daycare, boarding and grooming services in Colorado Springs. With a focus on customer service and a true love for the dogs placed in their care, Canine Campus will ensure your dog receives the very best away-from-home experience possible, including lots of attention and fun activities to keep them occupied. Contact us here today to learn more about the top-notch services at Canine Campus.