Saede Mae: The Inspiration for Canine Campus (formerly Top Dog Daycare)
Canine Campus Franchise Founders, Tom Hilfers and Joelle Audette, were lucky enough to pick Saede Mae as their very first canine kid.
The following are excerpts from a letter Joelle wrote after they lost Saede Mae to bone cancer in 2003:
Saede Mae Hilfers was born on September 22, 1997. Her mommy weighed in at 170 pounds, her daddy was a whopping 210 pounds. Saede only hit about 150 pounds at her max weight, probably from playing so much at the daycare. She had a very "strong" personality….o.k., she was a Piece of Work! But I loved her, of course. Saede Mae was a one-of-a-kind!
Saede was a Daddy's Girl… she and Tom were virtually inseparable. In fact, Tom slept with her every night the last few months of her short life. She never really did like our kids — she came first, so she always thought of herself as "alpha" to them, no matter what we tried.
Saede went through basic obedience training, and I remember one night at class (I took her through to try to establish my Alpha with her) she let me "work her" for about 30 minutes, then she laid down in the middle of the class and wouldn't get up the rest of the hour. She even growled at me when I tried to get her up (told ya she had a mind of her own!).
I will never forget driving my car behind Tom in his truck, with Saede sitting right next to him on the front seat. It was very cute — she looked human, and even bigger than Tom, sitting next to him. Tom took her just about everywhere with him in that truck.Of course, she wouldn't get into it herself; she would put her big front paws on the seat and look back like, "I need help!"
Tom would scoop up her heavy backside and lift her into his truck. I, however, know she could have EASILY jumped in on her own. I saw her one time clear a 4-foot gate at the vet hospital. She got loose from the vet techs in the back (when she was there for a check-up) and ran through the long hallways like a maniac until she found the front door!
Much to our horror, she was diagnosed with bone cancer in November, 2002. Doctors told us she had about 3 months to live.We visited the amputation option, chemotherapy, and other treatments, but decided she was too proud to go out without her whole body.
The bone cancer was actually first detected by one of our employees on the daycare playground because she was limping. Tom rushed Saede to the vet that day — we both thought for sure it was another hip or knee problem (she had already had knee replacement surgery). We were wrong.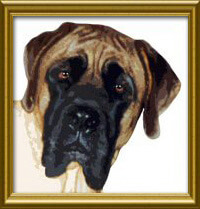 Saede told us the day she was ready to die… the look on her gentle, giant face said it all. She was more concerned about us (mostly Tom), than she was about leaving us. That Sunday during Labor Day weekend of 2003 was one of the worst days of my life… Tom and I held her as she slipped off to eternal sleep. God rest her big soul.
We will meet again in Heaven, big girl!