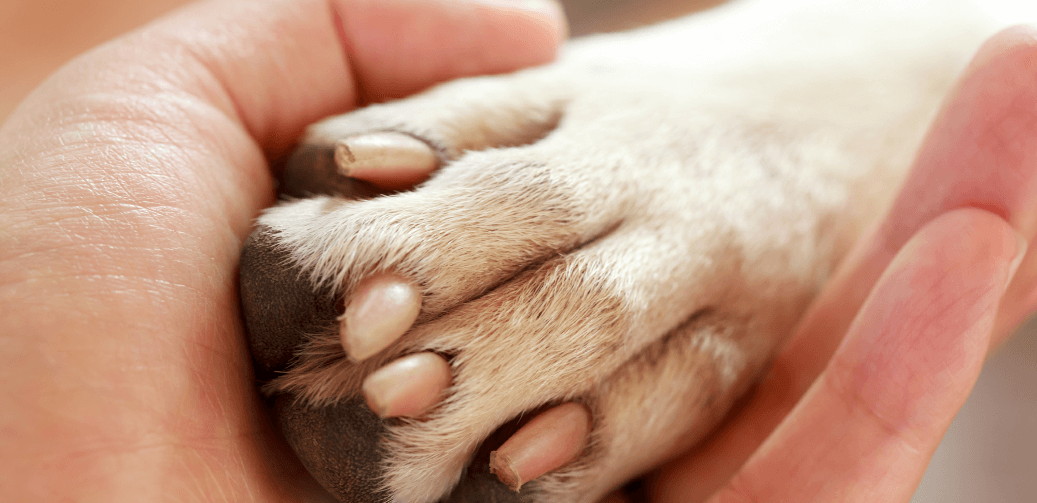 It's January in Colorado and that means frigid temps, icy conditions, deicers and antifreeze, all hazardous to your dog. It's important that you check your dog's paws regularly for signs of cold weather injury or damage, such as cracked or bleeding pads. Your dog's paw pads are an important indication of your dog's overall health. If something isn't right, the signs can show up here first.
If your dog is limping or favoring one foot over another it could mean an injury, or it could be due to the accumulation of ice between your dog's toes. Make sure you keep the hair between the toes clipped to reduce the chances of ice ball accumulation.
During walks in cold weather, your dog's feet, legs and underbelly may collect deicers, antifreeze or other toxic chemicals. When you get home, wipe down or wash your dog's feet, legs and underbelly to remove chemicals and reduce the chance that your dog will get sick licking his/her feet fur. Make sure you only use pet-safe deicers (available at most pet stores) to protect your dog and other animals in your neighborhood.
What All Dog Owners Should Know About Paw Pads
Here are some things to keep in mind about your dog's paw pads.
The cells in your dog's paw pads have a high turnover rate. For this reason, they require a lot of blood supply and nutrition.
Your dog's paw pads help absorb shock, sparing their joints from too much pressure.
Dogs sweat through their paw pads, which makes it extra-hard for bandages to stick. If you must use bandages, change them often.
Some dogs have super-sensitive paw pads. For them, booties are essential, not just a fashion statement.
Be aware of the effect harsh chemicals can have on your dog. For example, if you use chemicals to clean your floors, your dog could be licking the chemical off his/her paws, which could make him/her sick. Try to stick to mild detergents that won't hurt your dog.
Does your dog lick his/her paws incessantly? If so, it could be a sign of a pH imbalance, meaning your dog could need to have red meat added to his or her diet.
Besides exposure to deicers, ice or other chemicals, cracked paws could be a sign of a zinc deficiency. Your vet may prescribe fish oil for this condition.
How to Treat Cracked Paw Pads
If you notice a problem, it's important to get your dog to the vet right away. But if that isn't possible, you can wash the wound using a clean cloth that's been soaked in warm water. Wring out most of the water and lay it gently on your dog's paw. The warmth and moisture will help to soften the area, making it easier for surface debris to be washed off. Once you've soaked and rinsed the paw gently, let the paw air out and then protect the paw using an old, clean sock that's been secured with strong tape. Be sure to not apply the tape too tightly as it can cut off your dog's circulation. Schedule a visit to your vet as soon as possible.
You can ask your vet to wrap your dog's cracked paw. The downside of this is that you won't be able to check the wound periodically, but it will be effective against incessant licking.
Health Conditions and Paw Pads
Healthy dogs should be able to heal their paws fairly quickly. But if you dog has a health condition, it can take longer. Dog's paw pads are made up of tough keratinized epithelium, so it can take a couple of weeks for the paw to heal.
If your dog has persistent issues with his/her paws, and you have been careful about chemicals, your dog could have an underlying condition that is affecting the paws. Some of the types of diseases that chronic cracked and bleeding paw pads could indicate include:
Liver issues
Allergies
Digestion
Endocrine issues
Autoimmune issues.
Preventative Measures You Can Take
Check paws daily, especially in icy weather.
Keep your dog's nails and hair between the toes clipped.
Apply something like bag balm or paw protection wax. Just make sure it's safe for ingestion in case your dog licks his/her paws with the salve on it.
Consider using some booties when your dog goes out. We like PawTectors but there are lots of booties on the market to choose from.
Caring for your dog includes caring for his/her paws. Taking these precautions and treating cracked and bleeding paws appropriately can go a long way toward ensuring your dog is comfortable and healthy.
Canine Campus offers your dog a fun, energetic social experience and provides the very best daytime & overnight dog care in the Pikes Peak Region since 1999. We will entertain your four-legged family member with top-notch supervised social interaction, companionship and cuddles all day long. Call us at 719-448-9600 to learn more.