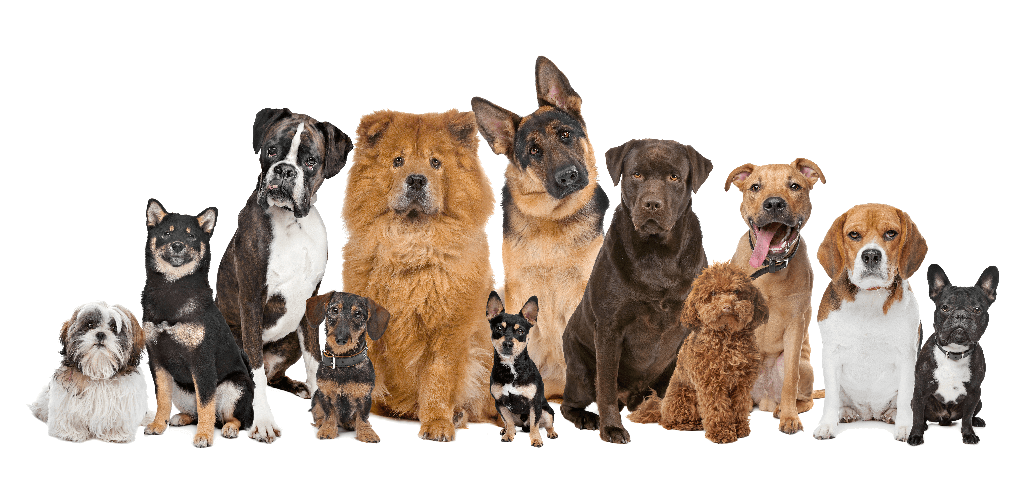 What breed is my dog? This is a common question for anyone who is not fully aware of their dog's lineage, especially if your dog is a rescue or stray. And rightfully so. A dog DNA test can help you understand your dog's behavior as well as look for possible health issues known to their breed(s).
Each dog breed has specific behavioral traits. Different genetic sequences coded into your dog's DNA are identified by the sophisticated testing protocols. Every dog breed has its own unique stretches of DNA not found in any other breed. The earliest evidence of different dog breeds comes from the remains of hunting and sled dogs in Siberia over 10,000 years ago. Today, the World Canine Organization recognizes almost 400 different breeds that fall into the following categories:
Sheepdogs and Cattledogs
Terriers
Spitz and primitive types
Pointing dogs
Companion and toy dogs
Pinscher and Schnauzer dogs
Dachshunds
Scent dogs and related
Retrievers / Flushing dogs / Water dogs
Sighthounds
Your Dog's Personality
While each dog has its own personality, there are certain temperament and personality traits that are associated with different breeds. Here is a list of 180 dog breeds and corresponding characteristics, physical description, temperament, history and potential health issues.
Understanding your dog's personality traits can be very beneficial when it comes to training. While most dogs will respond to food for motivation, each dog has preferences, likes and dislikes that can be influenced by its breed.
Another key measure is where your dog falls on the continuum between dependency and being independent. Different breeds may respond differently to training depending on their comparative mastery at reading human gestures, voices, facial and body language cues. If you find yourself getting frustrated with how well your dog is responding to your training attempts, consider learning more about the breed and try adjusting your technique to the natural talents and confidence level of your dog's breed.
Your Dog's Potential Health-Related Issues
Canine DNA tests use over 200,000 genetic markers to discover your dog's family tree. They are also able to run 175 genetic health tests that may alert you to potential health risks before your dog has a problem. The tests identify whether your dog is positive for many genetic diseases that are common to your dog's breed(s). Knowing the dog's breed can also be helpful for veterinarians when prescribing medications by avoiding medications your dog's breed is known to be sensitive to.
For each health test, the dog is tested for being clear of the disease marker, being a carrier or being at risk. Clear indicates your dog is not at risk for developing the associated disease, as indicated by the gene sequence examined. Carrier means your dog carries one copy of healthy and one copy of mutated genetic sequence which means your dog will pass this mutation on to about half of their offspring. At risk means your dog has the potential for showing clinical signs of the disease and you should get your dog checked out by a veterinarian.
Some of the diseases that your dog will be tested for may be incurable, although the disease may be able to be managed medically once a diagnosis is made. Other diseases have been caught early and dog's lives' have been extended due to early detection.
Your Dog's Nutrition
Dog DNA testing may help you make informed decisions about your dog's nutritional needs. Canine DNA tests can reveal the predicted adult size and weight for your dog, giving you a good idea of the future size of your dog if they are still a puppy or helping you analyze whether your dog is at a healthy weight given the breed and individual characteristics of your dog. Genetic testing can help you know how much and what type of food will help your puppy develop best. Testing can help you make better nutritional choices, such as selecting a food made specifically for the breed of your dog, thus alleviating gastrointestinal issues your dog may be experiencing.
Surprising Results
Users of dog DNA tests are often surprised by the results. People tend to assume their dog is a certain breed based on their looks. After all, what else do you have to go on before you have genetic testing done? For this reason, most of the popular dog DNA test companies offer a follow-up consultation with a veterinarian genetic counselor. The follow-up consultations can be very helpful by answering specific questions or pointing out certain results and how they relate to your dog. Since different breeds can resemble one another, dog owners may have made assumptions that they now need to correct based on the lab results.
Most of the reputable dog DNA testing companies will provide you with results that you are able to access online, as well as a printout. Results are categorized into a personal, detailed report, a simplified version suitable for sharing with friends and family (think social media) and a genetic vet report that lists clinical traits and health conditions. There is also an email address supplied for questions or concerns.
Most dog DNA test users are happy with the results. There is a sense of security knowing your dog's breed traits and health risks as well as having your curiosity satisfied. And the next time someone asks: "What type of dog IS your dog?" you will have the answer.
Have you gotten your dog's DNA tested? How did the results turn out? Are you happy you had the test done? Please leave your comments below – we'd love to hear from you!
Canine Campus is committed to providing the best daycare, boarding and grooming services in Colorado Springs. With a focus on customer service and a true love for the dogs placed in our care, Canine Campus will ensure your dog receives the very best away-from-home experience possible, including lots of attention and fun activities to keep them occupied. Contact us here today to learn more about the top-notch services at Canine Campus.